Anyone who knows me well may tell you that I am a nosy person… and I love seeing where people live… and I love seeing how people decorate their houses…  So imagine how excited I was when I discovered that there are whole Instagram pages dedicated to exactly this!
I know that you have always been able to look in interior magazines to see this sort of thing, but they tend to normally feature grand and expensively styled homes which most of us can only dream of.  What Instagram has done is given ordinary people the opportunity to show off what they have done to their more modest homes, which in most cases are more realistic and relatable to the average person.
For a while now I have been a big fan of all things shabby chic and this latest Instagram discovery has only added fuel to the fire.  I love being able to see how people have put a stamp on their homes by bringing different colours, flowery prints and vintage-looking knick-knacks  together to create the much coveted,distressed look.
From the amount of Instagram pages dedicated to the style, it would seem that it is more popular than ever, but why is this?
Perhaps it is because it can be achieved on any budget.
Quirky trinkets and vintage fabrics can be picked up cheaply in car boot sales and charity shops and furniture can be picked up for next to nothing on online selling pages and in local recycling schemes.  With a bit of TLC and a lick of chalk-paint, you can achieve a piece of furniture which wouldn't look out of place in a Laura Ashley catalogue.  It is all about mixing the old with the new.
But for those with a higher budget or those  who perhaps prefer to buy new, it is now easy to buy vintage-esque items on the high-street. Many of the materials are remakes and copies of original antique designs and several shops have cottoned on to the craze for new-looking-like-old and have brought out home ranges of vintage feel products. Wilkinsons did a great line of 1950s inspired kitchenware last year which included retro-style microwaves and old-fashioned weighing scales in pretty pastel colours. If you look around many other high street shops too, you will see that they are doing the same.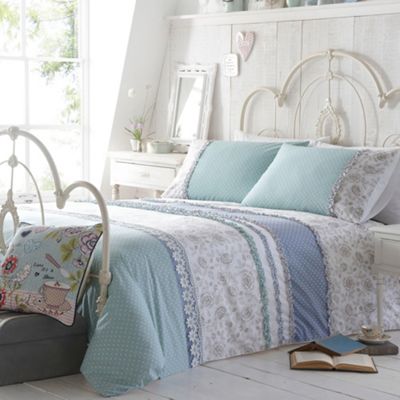 Another reason for shabby-chic's popularity could be down to the fact that it works well in a room of any size. It could be difficult to pull off the minimalistic look in a small room, however as shabby-chic is reminiscent of small, cosy cottages anyway, it doesn't matter if space isn't on your side.  Anything goes in this style.
How to achieve the look:
Pretty Patterns
Think clashing floral patterns mixed in with spots, stripes and different textures
Pastel colours
whites with creams, pinks, peppermint, duck egg blue, yellows.  Some people prefer to add splashes of bolder colours too
Distressed furniture
can be modified using chalk paint for a dull, rustic effect, or a glossy paint for a shine effect.
What is your favourite style of decor?  Why do you think shabby-chic is so popular?  Leave a comment below!
xxx